7 Most Famous Female Dancers in History
There are some dancers that are so gifted, so talented that they become legendary. Here is a look at seven amazing female dancers that have influenced or changed the dance world.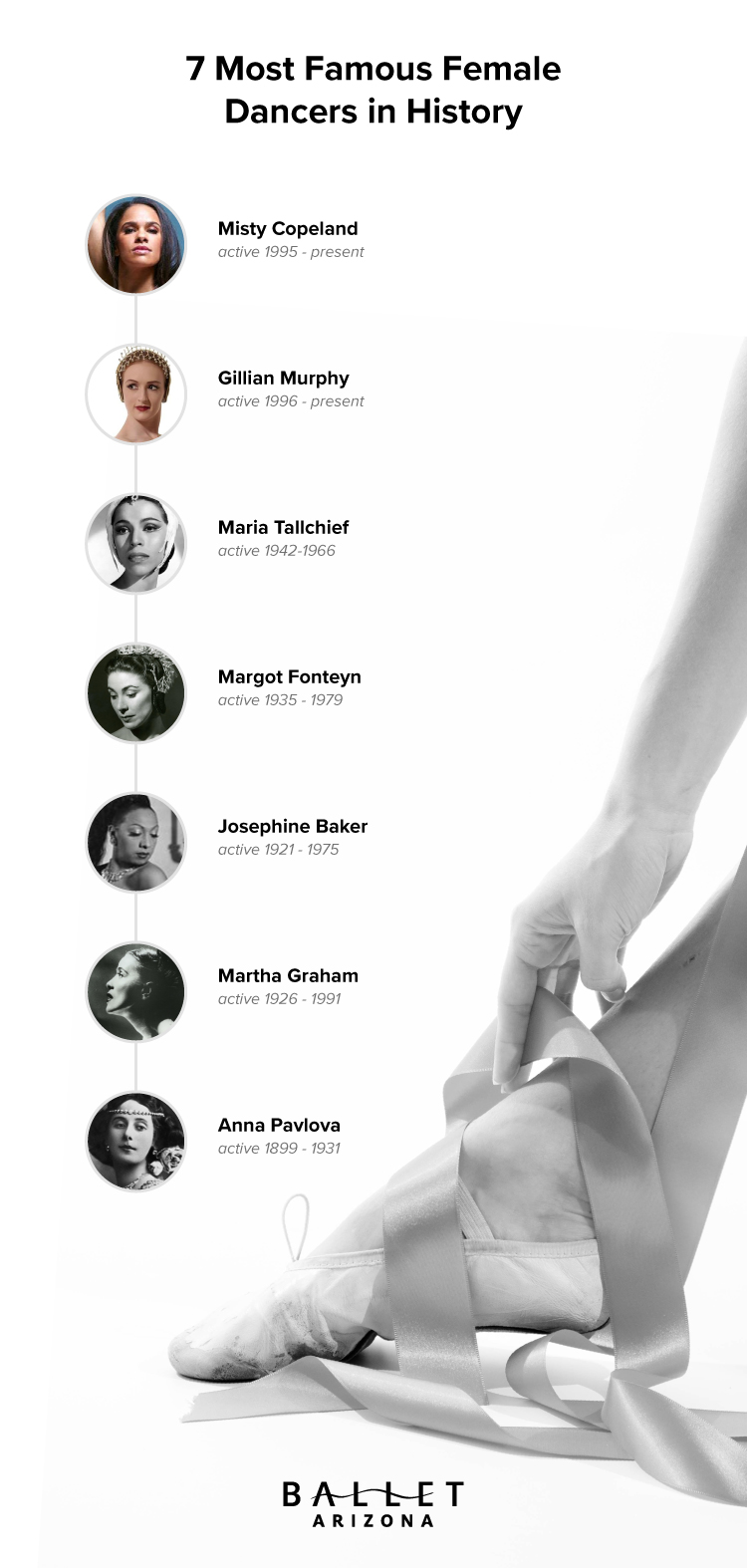 Misty Copeland

– Copeland was the first African American female to become a principal dancer for the American Ballet Theatre. The company had been in existence for 75 years.

Gillian Murphy – current principal dancer for the American Ballet Theatre. Murphy has appeared in several popular dance movies including Center Stage and Black Swan.
Maria Tallchief

– Tallchief holds the honor of being not only America's first-ever prima ballerina, but she was the very first Native American to earn that title. She performed in dozens of classical ballets, but she is most well-known for her performance of the Sugar Plum Fairy.

Margot Fonteyn

– Fonteyn performed as a ballerina in the Royal Ballet. She was known for her grace, beauty, and musicality. Her unique and graceful dance style helped change how people viewed classical ballet.

Josephine Baker

– a talented French dancer who became the first African American to star in a major motion picture. Baker wasn't just a dancer, she was also a civil rights activist and a fighter against the French Resistance.

Martha Graham

– Graham changed the dance world by choreographing works that required dancers to make jagged, angular, sharp movements. Her choreography and dance style was so revolutionary that she is considered by many to be the founder of modern dance in America.

Anna Pavlova

– a French prima ballerina who, in 1911, went on to form the world's first touring ballet company. She performed in many different ballets, but she is most well-known for dancing the lead in

The Dying Swan

.
Many of our dancers, both at The School of Ballet Arizona and those who are a part of our professional dance company look up to these famous female dancers and view them as role models. They hope to be able to perform with the same strength, grace, and beauty as these legendary dancers.
Has reading about these famous dancers inspired you to want to dance? Consider joining The School of Ballet Arizona. We offer classes for children ages 4 and up, teens and adults. Whether you are a beginner dancer or an experienced dancer who is looking to return to the dance world, we have a class that will get you twirling, jumping, and moving across the dance floor. We also offer various open classes that include adaptive dance as well as creative movement for toddlers.
Don't feel like dancing? Purchase tickets to any of our upcoming performances and you will be able to see how these famous female dancers inspired and influenced our amazingly talented female and male ballet dancers.
Subscribe to Our Blog
2835 E. Washington Street
Phoenix, AZ 85034
Main: 602-381-0184
Box Office: 602-381-1096
School: 602-381-0188
Return to main Ballet Arizona website
Multi-Media Center