Company Connection: Meet Colleen Buckley
&

Serafín Castro
Colleen Buckley
Hometown: Rochester, New York
Joined Ballet Arizona: 2017
What inspired you to become a dancer?
I don't really remember a time when I wasn't dancing! According to my mom, I started asking if I could take dance classes when I was two years old. She told me I had to wait until I was four and hoped that I would forget, but then I started asking if I was four yet. I started out in tap dance class and as I got older, I got to do jazz and ballet. After dancing in a kid's version of The Nutcracker at my local community center, ballet became my favorite style of dance and I changed studios so I could study ballet more seriously. My new studio was connected to a professional ballet company, the Rochester City Ballet, and after seeing the professional dancers I knew that I wanted to dance professionally too!
What has been your favorite role to dance & why?
Usually whatever roles I am rehearsing at the moment become my favorites! One role that felt extra special to me this season was dancing the "Ballabile" section of Napoli. The first act starts with a scene of a busy afternoon by the harbor, so there was a lot of time to explore the stage, interact with the other dancers, and live as the character without doing specific choreography. Every show was different and new! Ib explained that the "Ballabile" was meant to celebrate the joy of life. Dancing with all the other company dancers and the beautiful music made it easy to express that. As a bonus, the dance was all jumps – my favorite step!
What is in your dance bag?
I probably have a lot of things I don't really need, but I like to be prepared! I have tan ballet flats, pink ballet flats, at least three pairs of pointe shoes, toe pads, back-up toe pads, 3 pairs of scissors in case someone needs to borrow them, toe tape, band-aids, KT tape, tiger balm, exercise bands, snacks, a water bottle, extra skirts, a notebook, too many markers and pens, and a sewing kit. I also always have my copy of Gail Grant's Technical Manual and Dictionary of Classical Ballet. One of my college professors would quiz us on obscure ballet terms she knew we wouldn't know and then tell us to "look them up" in the Gail Grant Manual, so I got in the habit of keeping the book nearby.
Do you have a pre-performance ritual?
My preference for performance days is to be ready extra early, because you never know what can happen! I like to get to the theater about an hour before warm-up class to do my hair and makeup and get ready for the day. During class, I like to test out the pointe shoes I am planning to wear for the performance. After class, I go back to the dressing room to get my costume on and touch up my hair and makeup. I like to go backstage ten to fifteen minutes early so I can put rosin on my shoes, review the choreography and corrections, and say a prayer for the performance.
What do you do outside of dance?
Outside of ballet, I like to explore Arizona, go hiking, read books, and spend time with friends and my fiancé!
---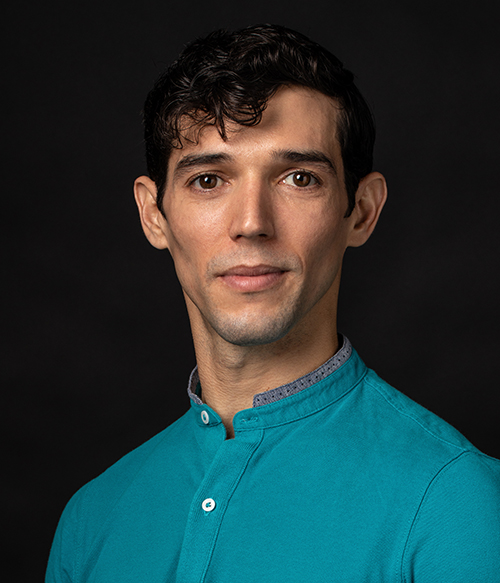 Serafín Castro
Hometown: Villa Clara, Cuba
Joined Ballet Arizona: 2018
What inspired you to become a dancer?
My biggest influence is my family, especially my sister. She is a former ballet dancer, and I remember when I was a little boy, she inspired me a lot. Later at school, in Cuba, I learned that becoming the best ballet dancer in my country meant an opportunity to go travel and dancing around the world.
What is your favorite ballet?
Definitely Giselle if we are talking about classical ballet. It is such a tradition in Cuba thanks to my ex-director Alicia Alonso. I love the romanticism and style of Giselle, especially the precision and elegance from the corps de ballet in Act II. On the other hand, I have to say Bella Figura by Jirí Kylián. I'm a huge fan of neoclassical ballets and that piece is so strong. Every single line matches perfectly with the music.
Do you prefer modern or classical ballet?
I have to say both, I love classical because it's so refined and exquisite. But, I love modern because it gives you freedom to move and print your own expressions and feelings.
Do you have a pre-performance ritual?
Stretch a lot. I like to touch the stage floor with my hands before the curtain opens. I am also very tidy and need to have everything in order before I go on stage.
What do you do outside of dance?
It's hard to disconnect, I'm always working out so I can keep-up my technique. However, I have to say that I love to cook. I actually have a great reputation among my friends and family, they love my food. I would love to open my restaurant one day.
Subscribe to Our Blog
2835 E. Washington Street
Phoenix, AZ 85034
Main: 602-381-0184
Box Office: 602-381-1096
School: 602-381-0188
Return to main Ballet Arizona website
Multi-Media Center