Benefits of Dance Therapy (Infographic)
It's no secret that a few minutes on the dance floor can burn calories, build muscle, and improve your mood. But did you know that the benefits of dance go well beyond that brief burst of endorphins? When applied in a purposeful, clinical manner, dance can prove transformative — especially for those diagnosed with movement-related conditions such as Parkinson's disease.
Daily Doses of Dance for Parkinson's Patients
According to the Parkinson's Foundation, over 10 million people worldwide live with Parkinson's disease (PD). As a central nervous system disorder, this condition dramatically impacts movement, leaving many patients with tremors, limited mobility, poor balance, and often, fatigue. A variety of medications can be prescribed to ease these symptoms, but increasingly, experts are looking to alternative therapies such as dance to provide relief free of side effects.
While dance has long been used as a weekly supplement for patients with PD, an intervention held in a Buenos Aires hospital's movement disorders department reveals that daily or near-daily dance can significantly improve long-term outcomes. Argentine tango was prescribed, in part, because it imparts physical, cognitive, and social benefits on those who dance on a daily basis. These factors ultimately coalesced to provide impressive outcomes for the eight patients involved in the study. Participants saw, on average, an 18 percent decrease in symptom severity while also enjoying dramatic improvements in sleep quality and activities of daily living. Half of the patients prescribed high dose dance interventions saw major improvements of between 30 and 50 percent.
Opportunities for integrating dance therapy into treatment protocol abound. Even watching dance can impart profound benefits. Regular participation, however, could make all the difference for Parkinson's patients dealing with a variety of physical, cognitive, and emotional challenges. The power of dance cannot be denied — the more patients are able to integrate it into their daily lives, the better they'll feel.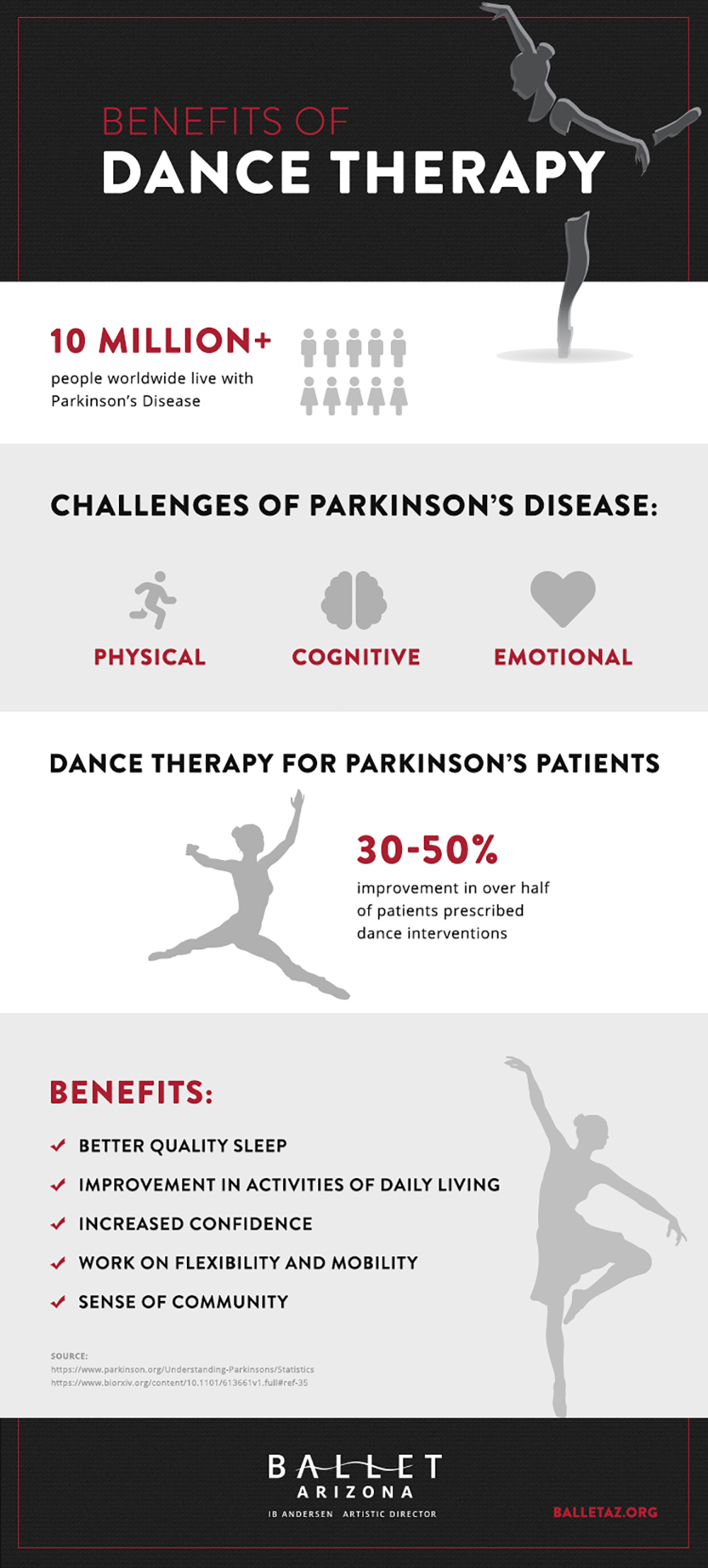 At Ballet Arizona, we're passionate about harnessing the power of dance to help those most in need. We've collaborated with the Muhammad Ali Parkinson Center to offer a $5 dance class called Dance for Parkinson's Disease that is specifically designed to ease the physical and emotional symptoms of the disease. Our class meets every Wednesday and Friday from 11:00 a.m. to 12:15 p.m. (except on major holidays) and is taught by Debbie Braganza. With regular participation, dancers will see significant improvements in strength, mobility, and confidence.
Reach out today to learn more about the connection between dance and Parkinson's treatment — and to get involved in our dance therapy program.
Subscribe to Our Blog
2835 E. Washington Street
Phoenix, AZ 85034
Main: 602-381-0184
Box Office: 602-381-1096
School: 602-381-0188
Return to main Ballet Arizona website
Multi-Media Center