Ballet Slippers vs Pointe Shoes
Learn The Anatomy and Purpose Behind Ballet Footwear
Ballet slippers or pointe shoes are crucial to a ballet dancer's wardrobe. All ballet dancers start their training wearing ballet slippers to class, whether they are 3 years-old in their first class or taking an adult ballet class at 40 years-old. This allows the dancer to properly learn the basics of ballet barre and center routines before levelling up to pointe.
Even when a dancer is performing on pointe, dance class is taken in ballet slippers to properly exercise the foot. This also allows the instructor or ballet master/mistress to assess the dancer's technique, because they can see the muscles, movement, and arch of the natural foot.
Ballet slippers have thin soles to offer maximum flexibility and are lightweight, compared to pointe shoes. The slipper secures tightly on to the dancer's feet, with elastic. The elastic ensures that the slippers won't go flying off during practice or a performance. They come in a wide range of colors & materials; canvas, soft leather, and sometimes even satin.
Most classic professional ballet schools, such as The School of Ballet Arizona, require females to wear pink ballet slippers while males wear black slippers.
Traditionally, only female dancers wear pointe shoes while the male dancers continue wearing ballet slippers; with the world changing so does the traditional setting of ballet. After years and years of training on slippers, gaining strength & dexterity and with the approval of the ballet instructor, may the dancer begin training to move to pointe.
Female dancers hoping to lead a professional ballet career begin their pointe training between 11 and 15 years of age. Starting on pointe too early can damage immature bones, so the instructor or ballet master/mistress is trusted to make sure the dancer is strong enough to begin pointe.
Pointe shoes are wore when performing pointe techniques during rehearsal and performances. This is when dancers stand on their tip toes and balance all of their weight on what is called the "box" of the shoe. Pointe shoes have to be extremely durable and are harder than a regular pair of slippers.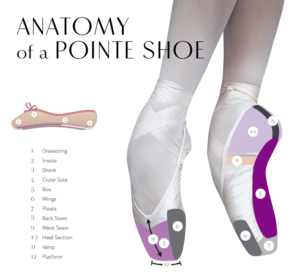 Components to Pointe Shoes:
-Satin on the outside.
-The Box; which can be layers of glue, cardboard, fabric, or rubber.
-The Shank; hard and thick to provide added support.
-The Soles; typically leather, smoot, and on the bottom of the shoe.
-The Elastic; which holds the foot securely in place behind the ribbon
-The Ribbon; to tie the shoe together for extra support around the ankle and give the look audiences are used to seeing
All components of a pointe shoe are altered in some way prior to the dancer wearing them. The front of the pointe shoes where the box is, is usually stripped of its satin for better traction. Dancers rub their pointe shoes while wearing them in rosin prior to stepping onstage for a performance to further increase not slipping.
Each dancer must also sew and secure their pointe shoe's elastic and ribbon for a proper fit. The dancer will bend, bang, and scrape their pointe shoes prior to ever wearing them to ensure they are broken-in properly to support the dancer's arch and flexibility.
Most of Ballet Arizona's dancers get a new pair of pointe shoes they must break-in for each performance so that the shoe isn't too worn down from rigorous physical movements. Most importantly, dancers wear a gel or wool toe pad over their toes prior to slipping on their pointe shoe to protect the big toe especially while they are balancing on it for hours at a time.
Would you like to see how to break-in a pointe shoe? Let us know in the comments below!
Subscribe to Our Blog
2835 E. Washington Street
Phoenix, AZ 85034
Main: 602-381-0184
Box Office: 602-381-1096
School: 602-381-0188
Return to main Ballet Arizona website
Multi-Media Center