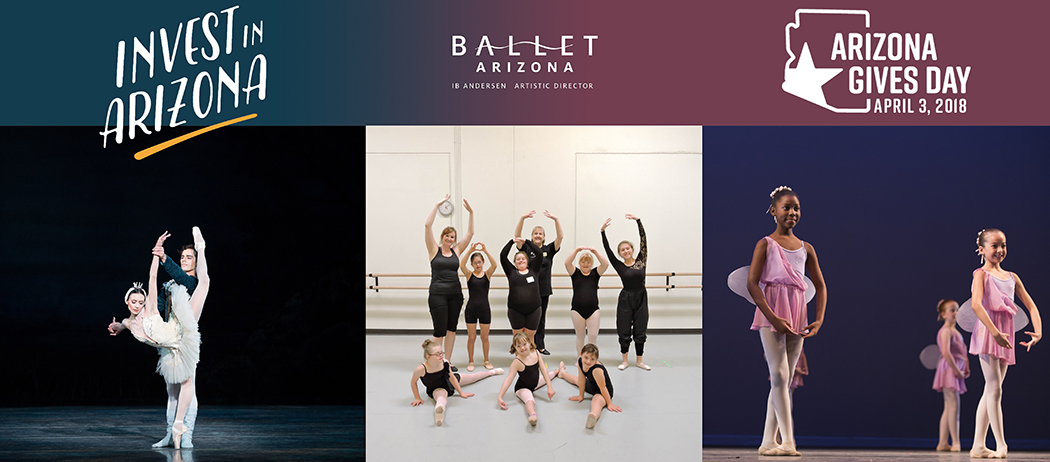 ---
April 3, 2018 is a big day — save the date!
Ballet Arizona will be participating in #AZGivesDay, a 24-hour day of statewide giving. Beginning in 2013, Arizona Gives Day started as a collaboration between the Alliance of Arizona Nonprofits and Arizona Grantmakers Forum and has helped raise more than $10.1 million for Arizona's nonprofit sector. Arizona Gives Day not only helps raise awareness about the variety of nonprofits around the state but shows the critical role they play in our communities. Arizona nonprofits do more than provide necessary services to our communities – they are an integral part of our state's economy, contributing $22.4 billion annually and provide 325,000 jobs. Monetary donations are the most direct way to help a nonprofit make an impact and allow nonprofits to allocate funds where they are needed most. By donating you simultaneously invest in the future of Arizona and help nonprofits made an impact in your community.
Did you know when you support Ballet Arizona your gift…
Keeps 30 professional dancers from countries around the world on their toes by performing inspiring classics and contemporary ballets each season.
Creates original ballets performed in public parks and at Desert Botanical Garden.
Connects the mind to the body and eases tremors for individuals with Parkinson's Disease for participants in our Dance for PD program.
Helps veterans reintegrate with their families by providing free tickets to 2,500 military veterans.
Helps grow the arts in critical ways by enhancing our community's quality of life and driving economic development.
Here are some ways that you can help support us on AZ Gives Days:
Schedule a donation ahead of time by clicking here! Every donation counts no matter its size!
Helps us spread the word! Share this post on any of your social media outlets and don't forget to tag Ballet Arizona (@balletarizona), and use the hashtag #AZGivesDay.
The more you help us spread the word, the more chances we have of winning some of the wonderful cash prizes that are made possible by the Alliance of Arizona Nonprofits and their AZ Gives Day sponsors.
For a detailed look into each of the prizes click here.
It is because of supporters like you that are able to provide beautiful and meaningful work on and off the stage! THANK YOU!
---
Subscribe to Our Blog
2835 E. Washington Street
Phoenix, AZ 85034
Main: 602-381-0184
Box Office: 602-381-1096
School: 602-381-0188
Return to main Ballet Arizona website
Multi-Media Center