A Day in the Life of Company Dancer Katherine Loxtercamp
Ballet has always been a part of company dancer, Katherine Loxtercamp's life. Currently in her second season with Ballet Arizona, Loxtercamp grew up in Bemidji, Minnesota, and started dancing at First City Dance Studio and at the Reif Center. At the age of 16, she moved to Maryland to continue her training at the Maryland Youth Ballet and then came to Phoenix to finish her studies at The School of Ballet Arizona as part of our Studio Company.
We sat down with Katherine to find out what a typical day looks like as a professional ballerina and get to know her a little bit more!
Katherine's Day:
6:30 am – wake up
7 am – breakfast of oatmeal with chia seeds, almond butter, and strawberries
9 am – company class
11:30 am – rehearsal for Desert Botanical Garden new work
1 pm – break filled with reading and working out
3:30 pm – rehearsal for Cinderella
4:30 pm – home and eating an early dinner
6:30 pm – open Modern class at Ballet Arizona – to get a different style of movement after the structure of ballet all day
8 pm – home, working on homework/studying, and winding down
10 pm – bed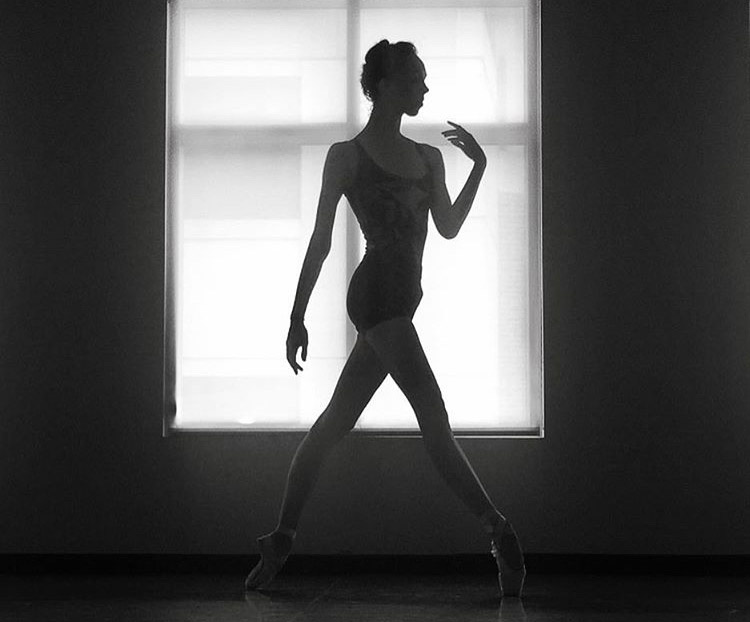 What prompted you to pursue ballet as a career?
One of the things I love most about ballet is its discipline and structure. Being a very type A person, I enjoy the challenge of perfecting technique and then on top of that being able to explore the artistic side has been a very rewarding, as well as challenging, journey for me.
Who is your ballet inspiration?
The first ballet inspiration that pops into my head is Gillian Murphy. She was the lead in Swan Lake, the first live ballet I saw when I was 14. It was the first time I saw a professional company of high caliber in such an extraordinary setting and that performance will always hold a special place in my heart. Other artists that I not only admire and love to watch, but have also had the honor of meeting are Julie Kent, Xiomara Reyes, Tiler Peck, Misty Copeland, David Hallberg, and Daniil Simkin.
What has been your most rewarding experience on stage?
One of my most rewarding experiences on stage was performing George Balanchine's, Agon, last season. It was not only a wonderful learning experience for me but it was an incredibly fun piece to perform and I am honored to have been a part of it.
Ballet is extremely demanding on the body, how do you look after your body?
In general staying hydrated, getting plenty of sleep, lots of stretching, icing, and resting whenever possible. During show weeks I make sure to take an assessment of little injuries or things that are bothering me at the end of the day, so I can focus on their recovery and make sure they don't worsen over the course of the show. I make sure to do an ice bath every night for my feet and spend time stretching and rolling out my muscles. I also think it's very important to get outside a lot during breaks to feel the sun and fresh air, since we have to spend most of our days indoors.
Have you had any injuries?
Like almost all dancers, I've struggled with some injuries, thankfully they have all been generally minor and fixable. Two years ago I had a stress fracture in my left fibula which took me out for the last month and a half of the season. This made me reevaluate the way I work on my feet and I changed the pointe shoes I was wearing, to put less strain on my outer ankle. I've also had knee issues in the past, which required me to focus on my alignment, and work to strengthen and stabilize my hips and knees.
What is your life like outside of dance?
Outside of dance, I am taking college courses online through Rio Salado, in order to get my generals done and for my own personal enjoyment, so a lot of my time is spent on schoolwork. During my free time I like to draw, read, journal, watch TV, and hang out with my friends. If we have a long weekend or during our weeks off, I may travel to hike or take a short trip to San Diego, one of my favorite places to visit.
Any advice for aspiring for dancers?
My best advice is to never stop believing in yourself and to never stop believing that you are capable of more. Don't think "I can't" or "I'll never be able to", those thoughts have no place in dance. Be patient with yourself and although it seems impossible at times, never let yourself get discouraged. Work hard, take care of your body, and dance for yourself and nobody else.
Subscribe to Our Blog
2835 E. Washington Street
Phoenix, AZ 85034
Main: 602-381-0184
Box Office: 602-381-1096
School: 602-381-0188
Return to main Ballet Arizona website
Multi-Media Center