A Day in the Life of Company Dancer Chelsea Teel
From demanding rehearsal schedules to time outside the studio, we take a look at the not so typical life of a ballerina.
When asked to talk about what a day in her life looks like, Chelsea Teel started by saying "Every dancer's life is different. We might all have the same job and some similar childhood experiences, but that's really where the similarities end."
For Teel, mornings are the only consistent part of her day. "I have to eat as soon as I get out of bed," says Teel, "so I start every single day with a slice of peanut butter toast and espresso." During the week, she also watches Good Morning America. "My mom watched it when I was a kid, and still does. I like things that make me feel close to my family, since they're all back in Indiana." After that, it's off to the studios.
Monday through Friday at 9 am, Teel starts her work day with company class, which she loves & hates all at once. "I love that it's the one time in the day that the entire company is together in one studio. Once we separate for our rehearsals, I'll only see a handful of people. At the same time, I hate class," Teel says. "You can't hide anything in class. It has a way of exposing your weaknesses and putting them on display for everyone to see."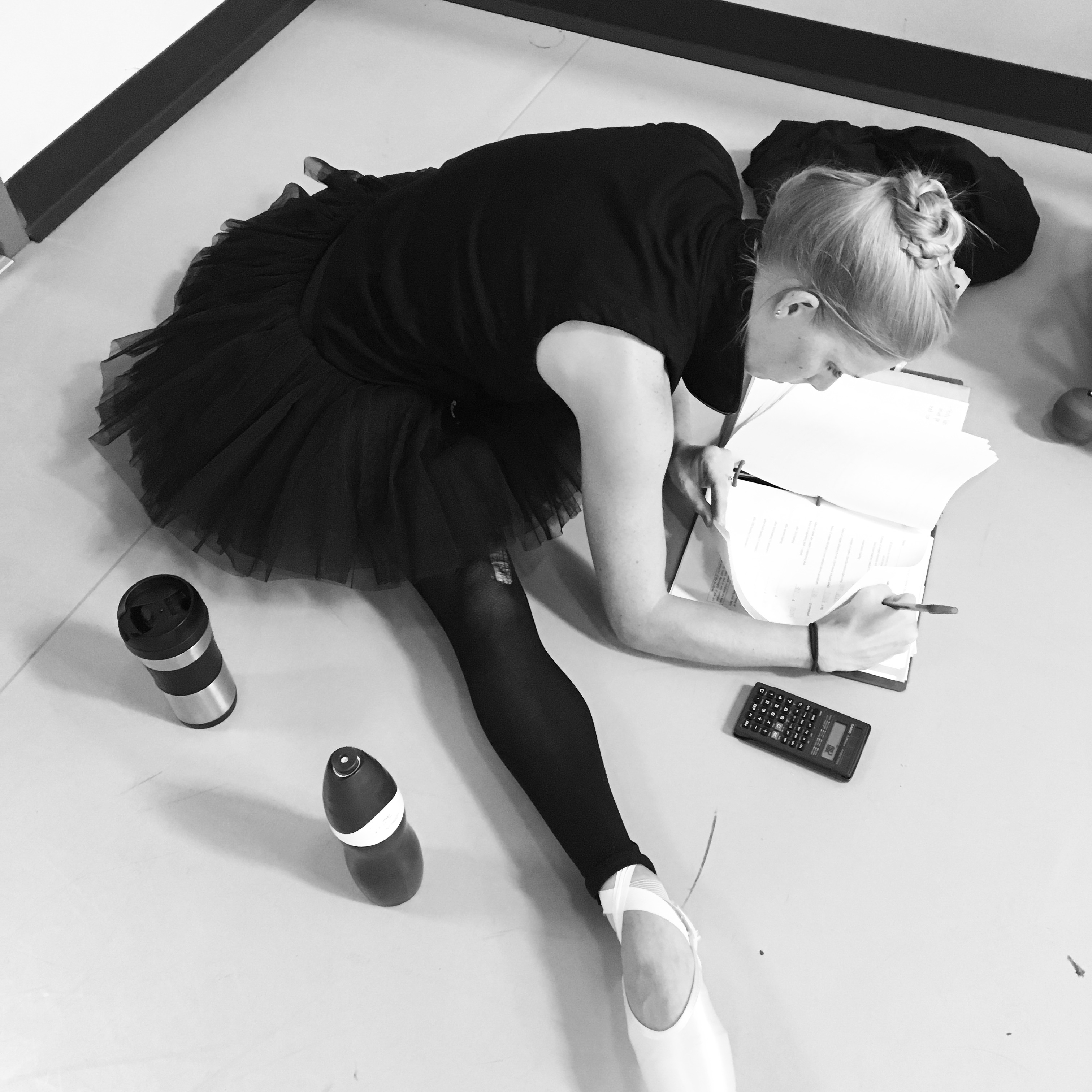 After class, anything goes. It's typically a full day of rehearsals from 10:45 am – 4:30 pm with breaks in between. "We get our rehearsal schedule the evening before and that's when my brain goes to work. If I have breaks, or if I finish early, I always plan exactly what I am going to do with my time. I hate wasting time," says Teel.
If she has a free hour, Teel is either in the dancer workout room on the spin bike, running an errand, or doing homework in the dressing room. If she is lucky enough to have a longer break, she will run home to play with her dog, Dudley, or get in a workout at her gym.
Once the dancing is done, Teel is still looking after her body, especially after having 2 hip surgeries in 3 years. Over the course of the week, she spends several hours at physical therapy. "I am constantly assessing how my body is feeling," she says. "I am either doing specialized exercises to condition my body for ballet, or getting worked on to keep things moving." After that, you can find her at home making dinner and then on the couch, sharing a huge bowl of popcorn with Dudley.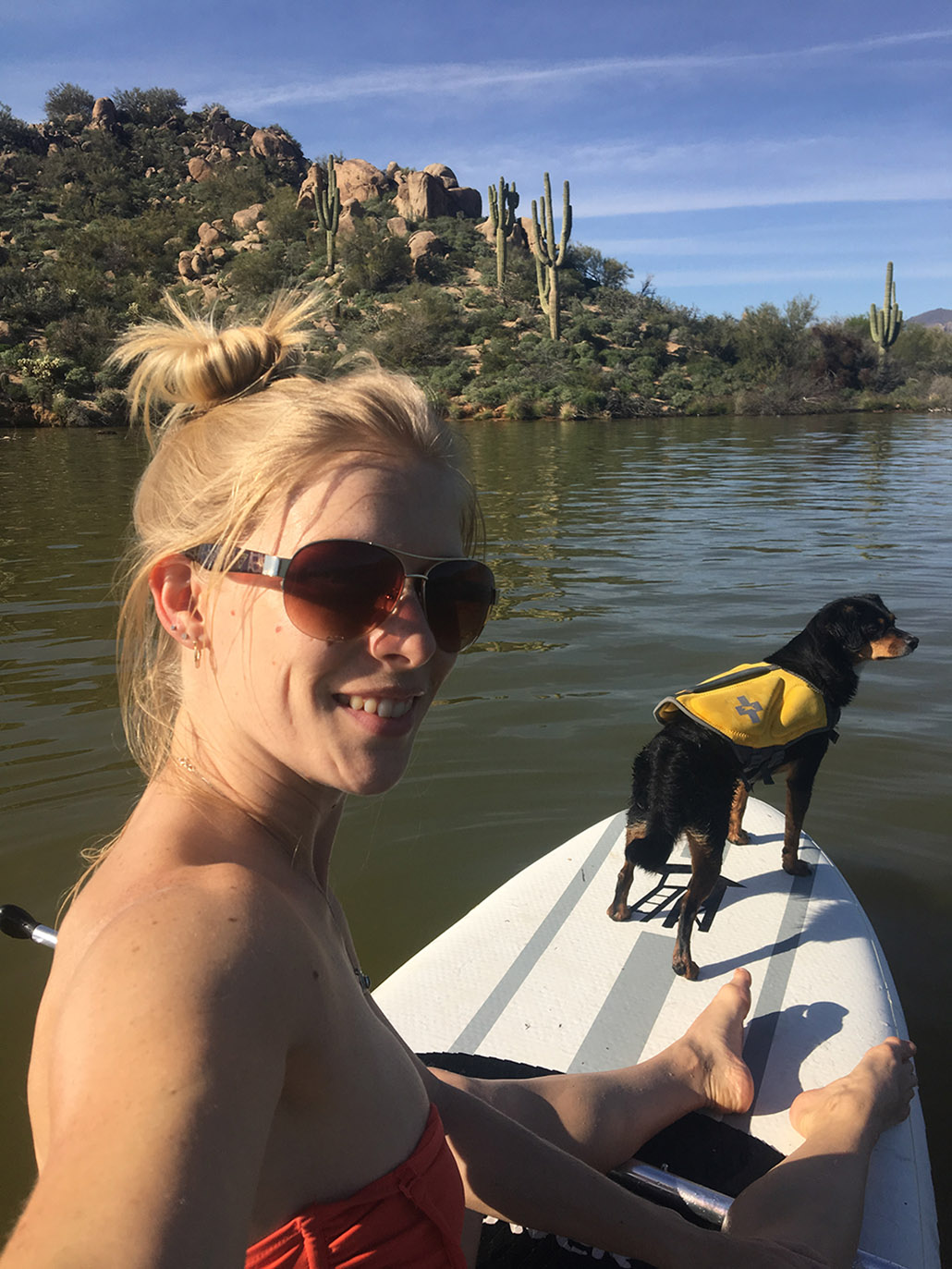 Outside of ballet, Teel is also in the process of earning her Bachelor's of Psychology, taking 20 credit hours this semester. She has been dancing and doing a full course load for over a year, so she wasn't joking when she said she hates wasting time. "I try to really hustle during the week so I can have my weekends free," she says, "but with 6 classes every semester, it's usually not easy."
On weekends, getting outdoors is important to her, and that includes paddle boarding with Dudley, or taking her mountain bike out to the trails at Apache Wash or Brown's Ranch. And then there's football. "I love football," says Teel. "I never make plans for Sundays so that I can watch hour after hour of it."
Teel's career made an interesting turn when she danced with Quixotic Fusion in the summer of 2009. She was blown away by the circus and the aerialists, so she began training on her own and eventually joined Cavalia. Coming back to dancing, and Ballet Arizona, has been a true gift according to Teel.
"Typically, once you leave a career as a dancer, you're done. I will be forever grateful that Ib welcomed me back with my circus muscles and loud mouth," says Teel. "I always knew that if I ever danced again, it would only be for Ib. I'm proud to be able to say that I've worked with him and for him, and think it serves as a good example for what young dancers should look for in their career."
Subscribe to Our Blog
2835 E. Washington Street
Phoenix, AZ 85034
Main: 602-381-0184
Box Office: 602-381-1096
School: 602-381-0188
Return to main Ballet Arizona website
Multi-Media Center