5 More Dance Podcasts To Follow
Grab a pair of headphones, we have more podcasts for you! Whether you're into in-depth interviews, or you just want to stay up-to-date with what is happening in the dance world, here are 5 podcasts to add to your queue.
---
City Ballet the Podcast
An exploration of New York City Ballet, introduced by Artistic Director, Jonathan Stafford, City Ballet the Podcast will have you journey through the company's history, delve into their new and existing repertory, and reveal insider tidbits. With series like The Rosin Box, giving you candid and exclusive insights into the lives of the company's dancers, New Combinations hosted by iconic ballerina and Associate Artistic Director, Wendy Whelan, Hear the Dance, exploring George Balanchine's expansive repertory, and See the Music hosted by NYCB's Music Director, Andrew Litton, you won't want to miss an episode!
Listen on Spotify
Listen on Apple Podcasts
---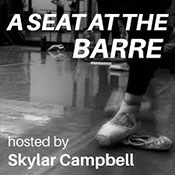 A Seat at the Barre
Hosted by National Ballet of Canada principal dancer, Skylar Campbell, A Seat at the Barre, launched as the COVID-19 pandemic hit. Summer 2020 was set to be the inaugural year of his summer company, the Skylar Campbell Dance Collective (SCDC), made up of 18 incredible artists from National Ballet of Canada, Boston Ballet, and New York City Ballet. Instead you know get up-close and personal interviews with the artists of of SCDC, discussing choreography, being versatile as a dancer, finding balance within your career, and so much more. New episodes every Sunday!
Listen on Spotify
Listen on Apple Podcasts
---
PillowVoices – Dance Through Time
PillowVoices: Dance Through Time brings listeners closer to notable dance artists connected with Jacob's Pillow, from 1933 to today. Each piece exemplifies Jacob's Pillow's mission to 'support dance creation, presentation, education, and preservation; and to engage and deepen public appreciation and support for dance' by utilizing archival recordings brought to life in the personal stories and narration of current thought-leaders and scholars. Jacob's Pillow, lauded by The New York Times as "the dance center of the nation," is a National Historic Landmark, a recipient of the prestigious National Medal of Arts, and home to America's longest-running international dance festival, located in the Berkshires of Western Massachusetts.
Listen on Spotify
Listen on Apple Podcasts
---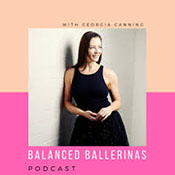 The Balanced Ballerinas
Hosted by Georgia Canning, the Balanced Ballerinas podcast aims to break down the elitist barriers often associated with ballet. Enjoy conversations with industry leaders from organizations like Boston Ballet and Joffrey Ballet School and thought provoking guests like legendary dancer and teacher, Finis Jhung, and Jess Spinner, founder of The Whole Dancer. Each episode will offer listeners an interesting  and open dialogue surrounding the study of ballet.
P.S. Georgia also has a TEDx Talk, Why Ballet is Brilliant. Click here to watch!
Listen on Spotify
Listen on Apple Podcasts
---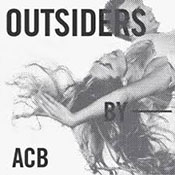 Outsiders
Lincoln Jones got what most insiders would call a catastrophically late start in ballet, he is now the artistic director of American Contemporary Ballet, "one of America's most adventurous and exciting ballet companies". Outsiders brings Jones' irreverent, iconoclastic approach to one of our most revered art forms, backed by his encyclopedic knowledge and immense passion. An inspiring, enlightening, and often humorous conversation for the culturally curious. New episodes every Tuesday.
Subscribe to Our Blog
2835 E. Washington Street
Phoenix, AZ 85034
Main: 602-381-0184
Box Office: 602-381-1096
School: 602-381-0188
Return to main Ballet Arizona website
Multi-Media Center