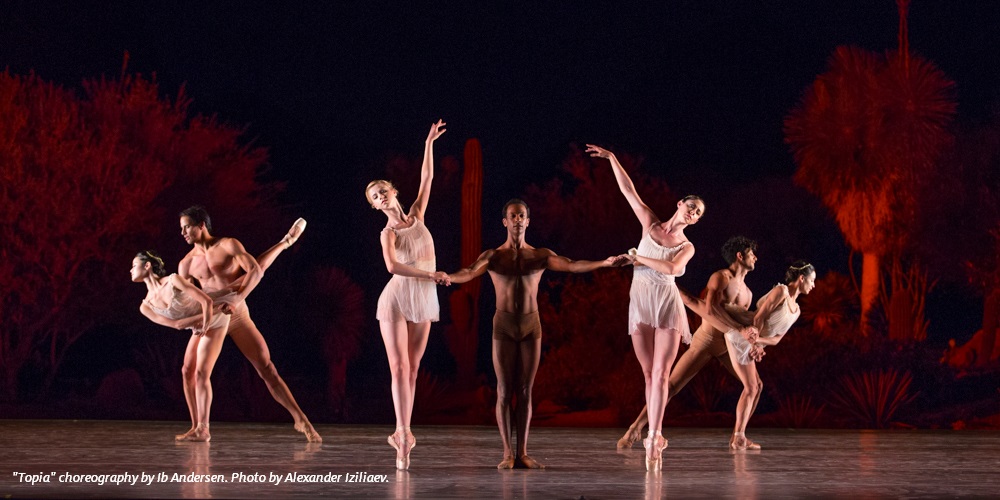 An Evening Celebrating
"

Topia

"

– by BAZ Board Member Miranda Lumer
I am one of the newest members of the board of Ballet Arizona, and I never cease to be amazed by all I learn and experience through my involvement with this organization. The Opening Night Reception for Topia was no different. Topia is a ballet bringing together the beauty of dance and nature in a way I have never experienced. Artistic Director, Ib Andersen, and his company have shown us ballet in a new light with a performance at Desert Botanical Garden.
The evening began with a Prima Circle member reception in the Boppart Courtyard. This event is one of my favorites because so many of my fellow fans of ballet attend with an enthusiasm and excitement about the performance to come, and a feeling of celebration for the closing of a season well done. Attendees enjoyed delicious hors d'oeuvres, wine and cocktails, and a chance to mingle with the many guests, including former board members who helped grow Ballet Arizona into what it is today, as well as new patrons experiencing a performance for the very first time.
The evening continued with remarks from our fearless leader and Executive Director, Samantha Turner, who spoke about her gratitude for the generous support Ballet Arizona has received this season and her vision for the future of Ballet Arizona. Ib then provided insight into his revolutionary ballet.
And then we arrived at the main event! Topia is performed on a stage spanning eighty feet wide set against the backdrop of the Papago Buttes and beautiful desert wildlife. The performance was stunning for many reasons, but one particularly remarkable part was the use of the setting sun to add drama and depth to the performance, at one point making the dancers appear as if their bodies were made of gold. Topia is unique because Ib and costume director Leonor Texidor have kept the costumes elegant, but simple, allowing the audience to be enchanted by the complexity of the movements and the smells, sights, and sounds of the desert. As one guest commented, "You can't get more Arizona than this!" I could not agree more.
I was most touched by the fun the dancers had while performing this piece. It was evident on their faces, and was contagious for the crowd. I know I am not alone when I say Topia is the perfect end to a successful and engaging season!
About the Author Miranda Lumer
Return to main Ballet Arizona website
Multi-Media Center