A Fond Farewell to Natalia Magnicaballi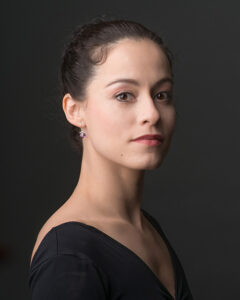 Adored dancer, Natalia Magnicaballi, will make her final curtain call with Ballet Arizona at the All Balanchine performance on Sunday, May 6th. A Principal Dancer with  two companies, The Suzanne Farrell Ballet at the Kennedy Center since 1999 and with Ballet Arizona since 2002, Magnicaballi's career has been a whirlwind. Originally from Buenos Aires, Argentina, her passion and talent earned her a place at the Teatro Colón Institute, one of the most prestigious opera houses in the world. At the age of 19, she became a principal dancer with Julio Bocca's Ballet Argentino and then joined Italy's Aterballetto under the direction of Mauro Bitgonzetti.
Magnicaballi has a broad and impressive repertoire under her belt, including the lead roles in 36 Balanchine creations such as Apollo, Tzigane, Agon, Serenade, and Jewels to name a few. She has also danced the leads in beloved classical ballets such as Swan Lake, Romeo & Juliet, and Giselle, as well as many other works and premieres by renowned choreographers Jiri Kylian, Christopher Wheeldon, Alexei Ratmansky, and of course our very own Ib Andersen. Magnicaballi has performed across the country, and in the major houses and arena theaters around 5 continents, including the Paris Opera Garnier, the Mariinsky Theatre in Russia, Tokyo International Forum, and the Cairo Opera House. She has also been reviewed by The New York Times, The Washington Post, Pointe Magazine, Dance Magazine featured as one of their "25 to Watch," and The Arizona Republic, who named her "Best Dancer."
In her final performance with Ballet Arizona, Natalia will perform the lead roles of The Siren in Prodigal Son and The Sleepwalker in La Sonnambula, one of Magnicaballi's most beloved Balanchine ballets, thus bringing her time with Ballet Arizona full circle.
With 36 Balanchine ballets in your repertoire, more than any other principal dancer outside of New York City Ballet, and the unique opportunity of dancing for two of Balanchine's protégées, Ib Andersen and Suzanne Farrell, can you describe what it is like to learn and perform Balanchine's works?
I love to dance, but when it comes to Mr. Balanchine's ballet, it's more than love, it's my second nature to dance his creations, it really feels like home. The reason I came to Phoenix was to work with Mr. Andersen. It's been a privilege for me to work with him here and simultaneously with Suzanne Farrell at the Kennedy Center, as a Principal Dancer for so long, 16 years with Ib and 19 years with Suzanne. They were the last protégées of the Master, and I'm a lucky girl for having them passing me directly all their knowledge throughout all these years.
Having danced at Ballet Arizona for 16 years, can you share some of the roles or moments on stage that have had the most impact on you?
This is a really tough question, because I danced so many ballets during my 16 years with the company, and it would not be fair to mention just one. Every single ballet and role I danced with Ballet Arizona is very special to me. I know it sounds cliché, but it's the truth.
Do you have a message for your fans that have followed your career thus far?
I can only say thank you for their wonderful support and I look forward to dancing for them for many more years. I am very grateful to my local fan base – a wonderful audience which has been constantly growing since I joined the company 16 years ago and which made me feel at home every time I danced for them here. When I first joined Ballet Arizona I knew the company was going through a very difficult time, with very weak financials and little audience, but I did not hesitate, because I wanted to work with Ib. So having been able to develop together with Ib, the huge audience and following Ballet Arizona has today, including several of my east coast and northwest fans who have been traveling consistently to Phoenix to watch me dance here, since I joined the company, and who helped to spread countrywide the voice about the hard beautiful work we were doing here, has been a wonderful and beyond rewarding experience for me.
Return to main Ballet Arizona website
Multi-Media Center